A History
Back in early 2013, a random encounter brought two strangers together that led to the Technology Leaders' Circle Event with Thich Nhat Hanh and a small group of Silicon Valley CEOs on October 25, 2013. That event took place at the home of Salesforce founder Marc Benioff.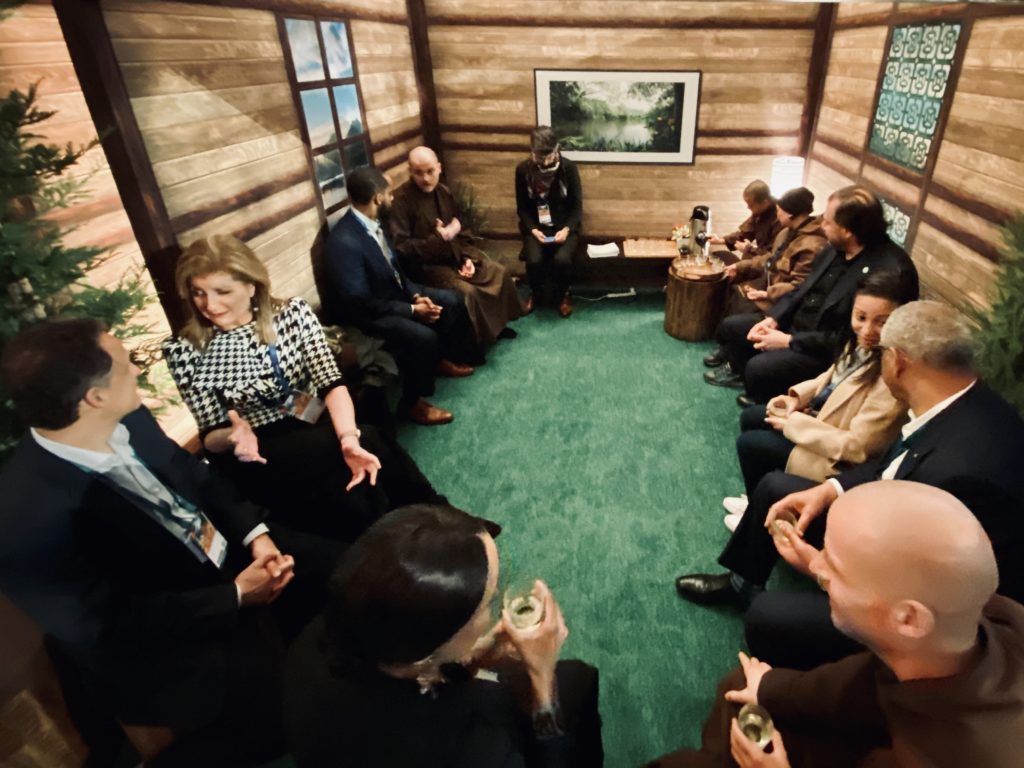 Then in the fall of 2015, the Plum Village monastics participated in the annual Salesforce user conference known as Dreamforce. That year we were placed in the main (outdoor) thoroughfare of the conference where we offered individual consultations and a series of workshops on mindfulness and meditation. The intention was to bring the ethical dimension of mindfulness to the corporate world. The Plum Village community has participated annually since then and just completed our fifth conference on November 22, 2019. 
Our Purpose
The Plum Village monastics recently wrote about our participation in this conference. "It is our aspiration to help people touch insight and transform their suffering right where they are, ideally transforming their workplaces and companies as they do so. Suffering and wrong views are abundant in Silicon Valley, and we are committed to continuing to offer the True Dharma there. To seed collective awakening, we need to be everywhere in the world. We see how important it is to bring our spiritual voice to tech companies, which have a disproportionate influence on the direction of our civilization and the planet. When we share the Dharma, we share the complete teaching, with a clear ethical dimension. We have been actively challenging the companies where we offer the Dharma, and encourage them to re-examine their business ethics. We are confident that the authentic practice is transforming people in profound ways. We're practicing as a community and we trust in the collective fourfold Sangha Eye and the Mindfulness Trainings as a compass to guide us as we tread this fine line, being vigilant and open-minded (not careless nor dogmatic) about where and when to offer the Dharma."
Dreamforce 2019
Through the years, we have offered feedback to Mr. Benioff and his team about how best to offer the dharma during this large (170k people) conference. As a result, in 2019 we were offered a larger and more dedicated space. We were situated near the exhibit hall and Salesforce bookstore where the vast majority of conference goers pass. The space included two dedicated meditation halls and three huts (smaller spaces) for small-group consultations and meditations. The images surrounding us were mindfully created and living plants were present all around. It felt very much like Plum Village, down to the mats and cushions, the bell, and monastics in brown. Throughout the convention center there were signs and directions to "Plum Village" and we were mentioned numerous times by both keynotes and fireside conversations (including a conversation between President Obama and Marc Benioff). Plum Village was in high demand and our dharma sessions were mostly full.
The deepest part of the offerings was likely the individual and small-group consultations. During these periods, conference attendees were offered a short guided meditation followed by an introduction to our practice. In the program, these were called 20-minute Power-up. Then we could listen to the suffering and joys of those attending. Our team of 25 monastics (from Deer Park, Magnolia, Blue Cliff, and Plum Village) and one lay dharma teacher (that's me!) were kept busy meeting with people and offering panels on the various aspects of our practice.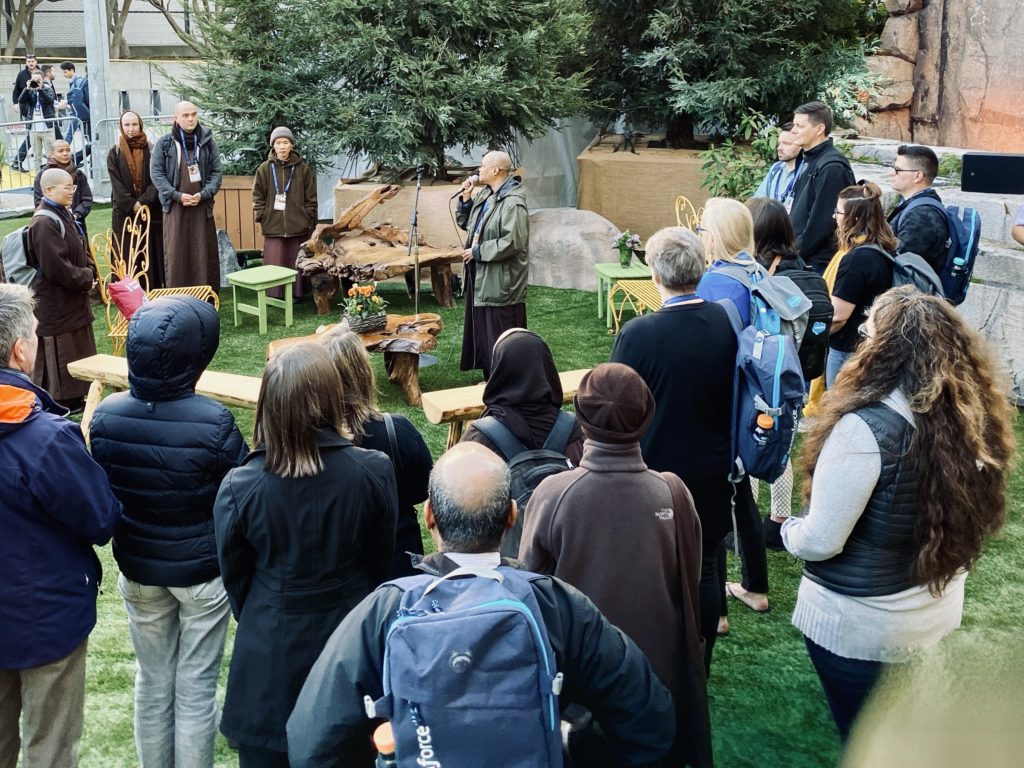 In addition to the Power-Up sessions, we offered Guided Tea Meditation, Embodied Mindfulness, Mindfulness & Communication, A Mindful Look at Leadership, Total Relaxation, Eating Meditation, Walking Meditation, Innovative Decision Making Through Mindful Collective Insight, Compassionate Communication, Zen Deep Dive: 90-minute Immersive Mindfulness, Radical Mindfulness for Challenging Times, a film screening of "A Cloud Never Dies" and "Happy Teachers Change the World," and a final dharma talk with Sister Lang Nghiem and Thay Phap Luu. Many of these sessions were offered several times throughout the four-day conference. Additional sessions were offered at the Executive Summit (a conference within a conference). All of these sessions were offered in a non-sectarian manner and each felt like any dharma talk you would hear at one of our monasteries.
It was a lot! And this was just the four days in San Francisco, not counting the months of planning and preparation to pull this event off. The True Dharma was shared with thousands of people, mostly customers of Salesforce from around the world – from large corporations to small nonprofits and educators. One of the beautiful aspects of this experience is that we did touch a handful of people more deeply. In particular, the Salesforce employees who were with us almost 24/7, the production team, the audio technicians who sat through every session, and the ambassadors who welcomed people to each session. I heard from several who were very moved by the experience and how they felt blessed to be a part of our team for the week.
Transformation and Healing
Even though we were only able to touch a very small number of people, there was likely thousands more that may have only heard of our community in passing. It could be that attendees will followup on their own by looking for a local sangha or may have the capacity to attend a full retreat. Regardless of the number, many were touched and perhaps have begun on the path of transformation.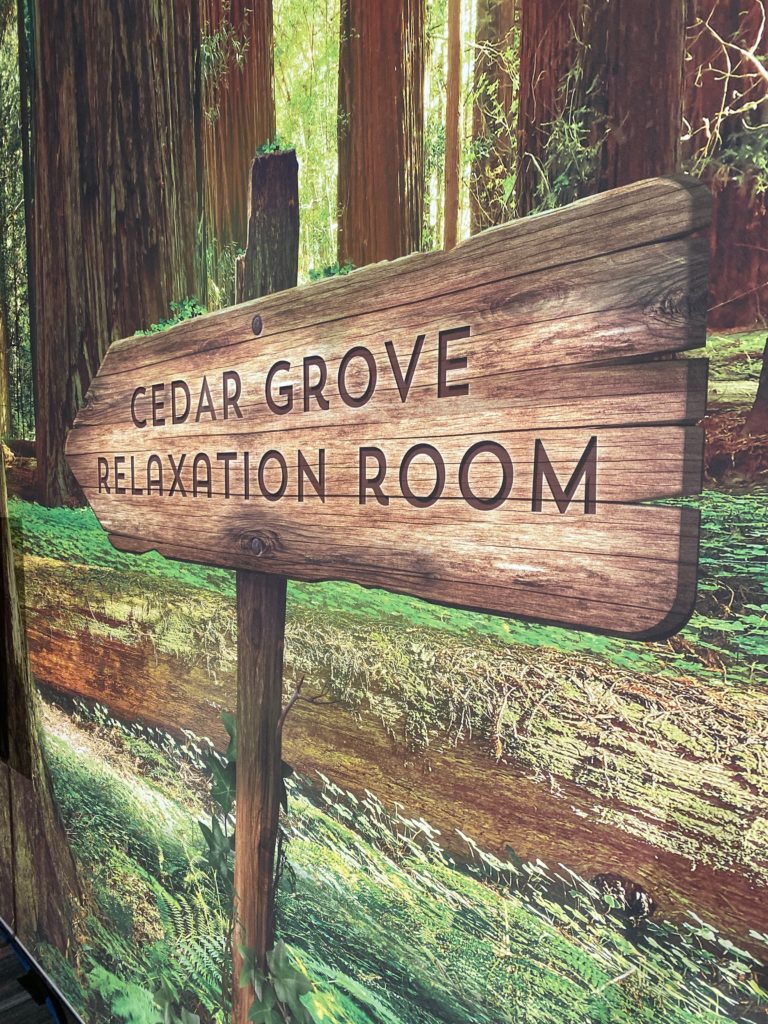 A few take-away quotes from those of us offering the dharma:
"We're moving within the wave of Thay's virtue. Marc is also Thay's continuation."

Br. Phap Luu
"As a monastic, I was able to offer more, because the conditions were more supportive."

Sr. Le Nghiem
"It's very satisfying to feel that the energy we put in was not wasted… people were helped, touched transformation."

Br. Phap Linh
"We offer our Dharma with all our love, and we continue Thay's wish to offer the practice to Businesspeople."

Sr. Hoa Nghiem
"Thank you for inviting me. I super enjoyed the event. I really liked the Power Ups because we can be very close to the people. I led the total relaxation. It was wonderful."

Thay Kai Li